Inside a historic Spanish colony in Kessler Park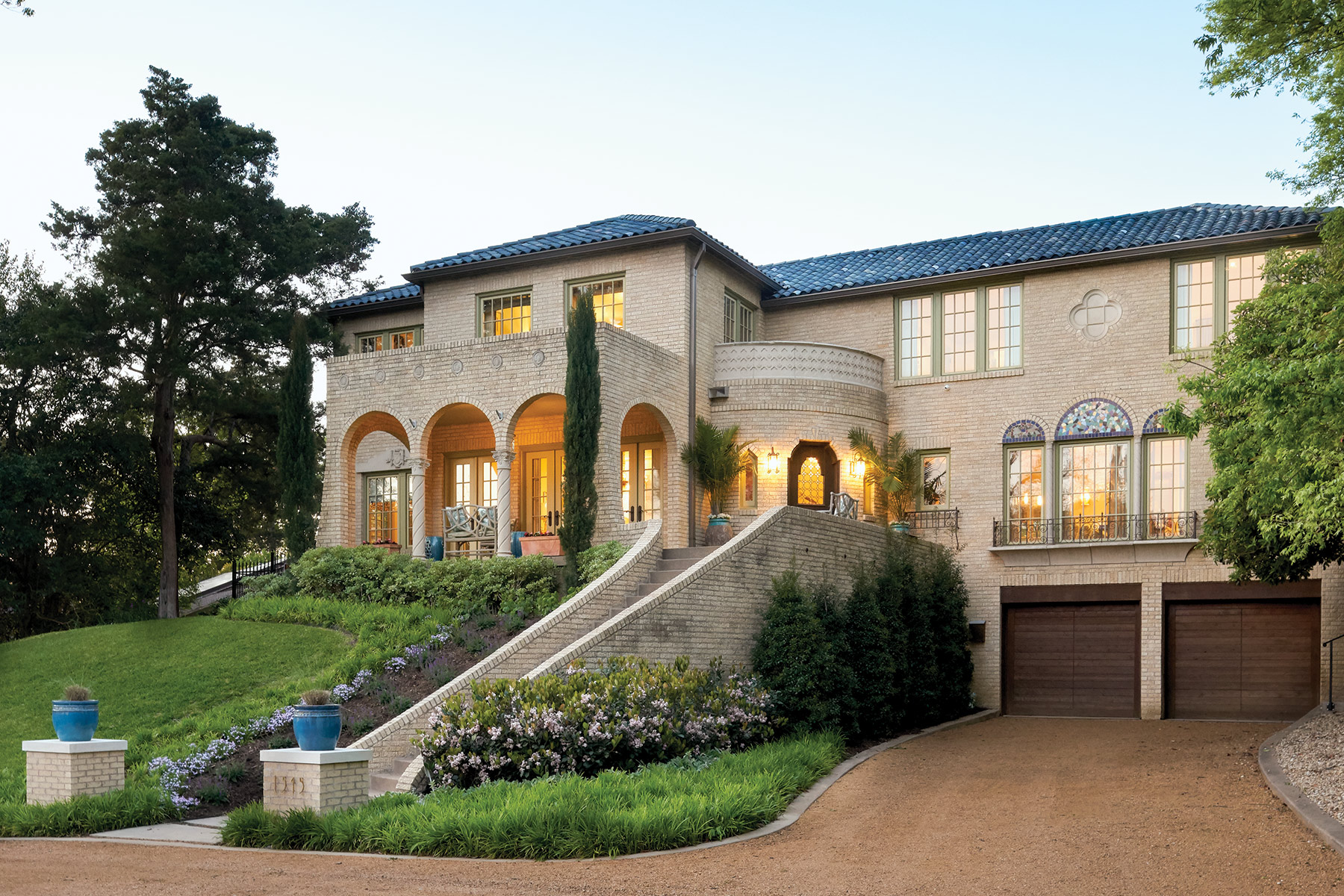 The long staircase leading up to the original cut-glass entrance door by Mark Anderson and Amy Brundrett Anderson 1927-the house built in Kessler Park is worth the climb, if only to get a view of the surrounding hilly, tree-lined streets and to study the intricate decorative plasterwork of the entrance rotunda. Built at a three-lane intersection on a rocky hill – most likely by famed Dallas architect Clifford D. Hutsell, though records are lost – you can easily imagine party guests from the Roaring Twenties parading through the majestic Spanish colonial.
These characteristics prompted Mark, a doctor, and Amy, a lawyer, to buy the house in 2016. That they would move in Oak cliff was not on purpose – Amy's grandfather and father grew up there, they love the architectural character of the neighborhood and frequent the Bishop Arts District. And, Amy wanted a basement.
"We are not formal, and we didn't want our house feeling too stuffy.

Amy Brundret Anderson, owner
They stared at the house for months before their broker filled them on his hip pocket list – and were only taken more by the interiors. Previous owner Bryan Trubey (the Dallas architect behind AT&T Stadium) had completed a meticulous and faithful expansion and renovation at the time. While preserving architectural details such as the original wrought iron stair railing, Rookwood Pottery fireplace tiles and grid glass, it also retained the more modern feel of the house with no-frills baseboards, simple crown moldings and off-white walls.
It was a perfect marriage of styles for Mark and Amy: Mark prefers minimalist and Amy admires antiques. Their inclinations and need for furniture and artwork for the entire 4,800 square foot home led them to seek out an interior designer. But many interviews turned out to be unsuccessful. "Their design solution was to put more pillows on everything, and I hate pillows," Mark says. Then came their sixth date, with a Dallas-based interior designer. Margaret chambers, ASID, RID, of Chambers Interiors & Associates, Inc.
Chambers, a three-decade-old designer, knew from the start how to temper some of Mark's more unusual demands, including a dramatic red and black master bedroom and boudoir. "She rightly should have left that first meeting," says Mark. "But being the person she is, she said, 'I can do something that will work. "
There is no combination of the two shades in the bedroom today – and Mark agrees with that. Instead, there are white walls, Peacock Alley linens and draperies to match the existing master bathroom tiles, and bedside tables wrapped in neutral grass fabric. In fact, the only true shades of color throughout the house are blues and greens, a tribute to Trubey's vision. It had lime green painted exterior windows and pale blue-gray interior doors and windows, hallmarks that Chambers and the Andersons didn't want to touch. "It was a challenge to make the pale blue-gray work throughout the house," says Chambers. "But this has led us to offer innovative solutions. "
The Anderson's only other wish was to create inviting spaces for entertaining. "We're not formal and we didn't want our house to be too stuffy," Amy says. "We wanted comfortable but well-designed rooms where guests feel comfortable.
Chambers – who worked in tandem with senior Chambers Interiors designer Allen Keith, Allied ASID, on the project – brought pieces with a multicultural bent to ignite the conversation and establish a "clean, simple, warm, interesting" aesthetic, she says. In the formal living room, they mixed Art Deco Macassar ebony chairs with Chinese bronze statues, Syrian bone marquetry tables, and a 16th century Indian textile reproduction from Ceylon et Cie. The dining room is a nod to Italy with a vintage from the 1950s. Murano glass chandelier by Paolo Venini from John Gregory Studios and antique Italian prints by Vinyard Frame Design. The guest bedroom is a tribute to Africa, and the Bulthaup kitchen cabinets, which Trubey installed, were handcrafted in Germany. "Margaret was adept at making our aesthetic desires acceptable," says Mark. "She's woven it all together."
And although it took a virtual trip around the world to fill their styles and make their Oak Cliff home feel right at home, now Amy says, "We wouldn't want to be anywhere else. "