SDCOE ceremony honors multilingual high school students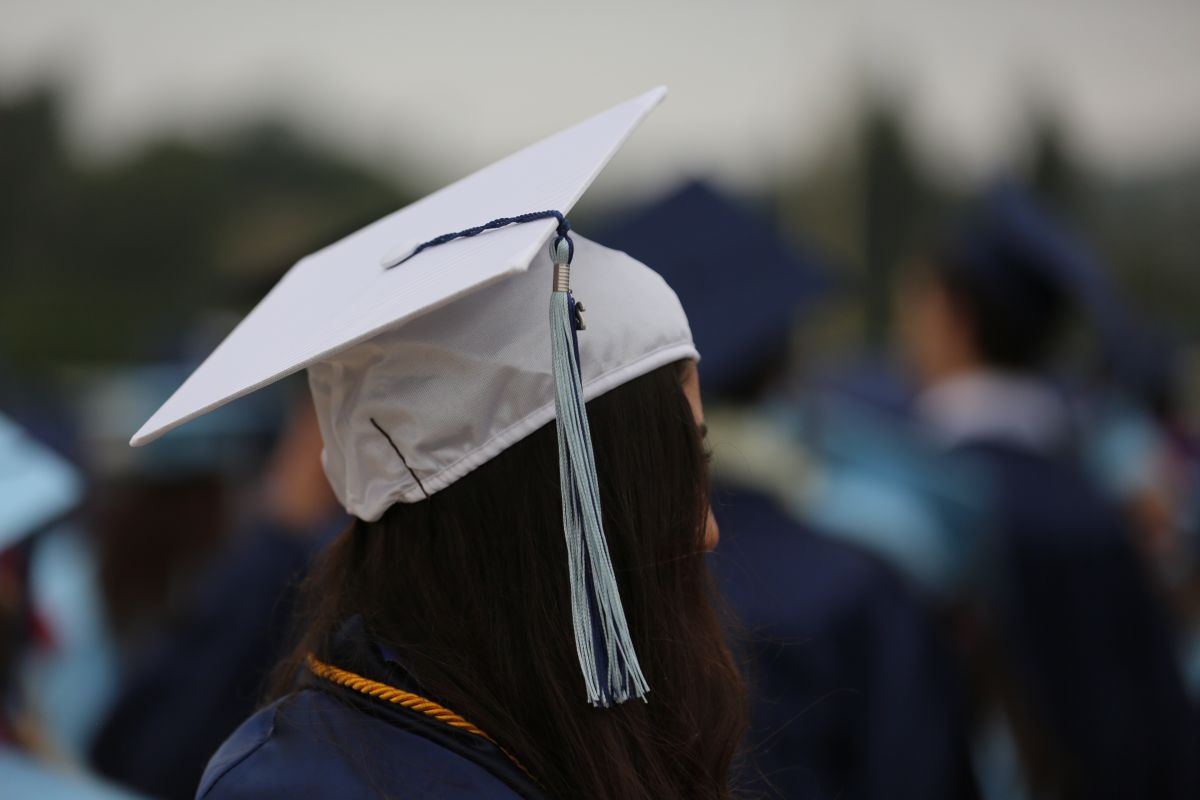 Local multilingual high school graduates with excellent academic achievement and tremendous aspirations were recently awarded scholarships and were honored at ceremonies hosted by the San Diego County Office of Education (SDCOE).
These 34 young people are passionate about making a difference in their world with future goals of becoming doctors, nurses, immigration lawyers and judges, educators and accountants to support those in their communities who are learning English.
"I understand that being bilingual is a remarkable advantage. I plan to get a doctorate to help improve the practices of the education system. As a teacher and biliterate, I plan to use my skills to help struggling students who speak a language by helping them excel academically because I understand the difficulty," said Vista graduate Estefani Carrasco High School and planning to attend UC San Diego. .
Many winners shared similar goals of using their bilingualism in their future professions to positively impact their community and become role models and mentors for the next generation.
Each of these high-achieving students received a $1,000 scholarship from the Bea Gonzales Biliteracy Fund or California Association of Bilingual Educators (CABE) Chapter 65 by demonstrating academic merit and writing essays on their career goals. Three of this year's scholarships were sponsored by the Federal Credit Union Mission.
The Bea Gonzales Literacy Scholarship, named for a multilingual attorney and former SDCOE employee, is open to students across the county who earn their school's and district's literacy seal. The CABE 65 scholarship is for high school students in National City, Chula Vista, Imperial Beach, and San Ysidro.
"Being illiterate and multilingual can be a powerful asset for learning and for life," said San Diego County Schools Superintendent Dr. Paul Gothold. "It is an honor to recognize these young people who have dedicated themselves to the pursuit of excellence."
Bea Gonzales Biliteracy Scholars 2022
Metztli Carbajal
Southwestern High School Graduate
Attend Stanford, Yale or Columbia
Objective/Major: Political science; Comparative Race and Ethnicity Studies
Roberto Rivera Palacios
University high school graduate
Student at the University of Arizona – Tucson
Objective/Major: Medicine with a doctorate. in pediatrics
Estefani Carrasco
Vista High School Graduate
Attend UC San Diego
Goal/Major: Education
Maritza Jazmin Santoyo
Graduated from Poway High School
Student at San Diego State University
Objective/Major: Criminology
"I want to become an immigration lawyer. Speaking two languages ​​will benefit my future clients as I will be able to fully translate legal documents into Spanish. — Maritza Jazmin Santoyo
Alondra Melissa Cruz
University high school graduate
Selection always among acceptances
Objective/Major: Criminology
Anayelie Flor
Graduated from Orange Glen High School
Participation in CSU San Marcos
Objective/Major: Business Administration
Itzel Monet Melchor
Graduated from Orange Glen High School
Attend UC San Diego
Objective/Major: Mathematics
Alondra Vidals
Graduated from Orange Glen High School
Participation in CSU San Marcos
Goal/Major: Education/Teacher
"I want to be a role model for students who dream big with many opportunities, which is why I aim to be a bilingual teacher." —Alondra Vidals
Frida Stephanie Ayala
Graduated from Sage Creek High School
Attend UC Riverside or Irvine
Objective/Major: Political science, lawyer specialized in immigration law
Salma Lopez Barron
Graduated from San Marcos High School
Student at San Diego State University
Objective/Major: Kinesiology / Physiotherapist
Ji in the song
Graduated from Mission Vista High School
Selection always among acceptances
Goal/Major: Biology
"As a multilingual person, I want to make people's experience in a medical setting more accessible and comfortable. I would be able to use my knowledge of several languages ​​to communicate effectively with patients from all different backgrounds so that I could provide them with care that they fully understood. —Ji In Song
Vanessa VALENTINE
Graduated from San Marcos High School
Participation in CSU San Marcos
Goal/Major: Spanish BA / Educator
Ana Karen Ojeda Robles
Graduated from Orange Glen High School
Participation in CSU San Marcos
Objective/Major: Psychology working with autistic youth and families
Anahi Martinez Perez
Vista High School Graduate
Participation in CSU San Marcos/San Diego
Objective/Major: Business Administration
Luis G. Castro
University City High School Graduate
Student at San Diego State University
Goal/Major: Mechanical Engineering
"I have always been very proud to be able to speak two languages. The profession I chose is mechanical engineering because I have always had a passion for automobiles. I want to work with the biggest companies to design the future of the automobile. —Luis G. Castro
Angela Hernandez
Graduated from San Pasqual High School
Participation in CSU San Marcos
Objective/Major: Psychology
Yareli Lizet Albina Bautista
Graduated from Fallbrook High School
Study at the University of Southern California or UC San Diego
Objective/Major: Sociology
Selena Chamu Martinez
Graduated from Orange Glen High School
Attendance at Palomar Community College
Goal/Major: Nursing
"As a child, I always dreamed of obtaining my diploma as an obstetrician-gynecologist. I intend to become an incredible bilingual gynecologist who allows my future patients to express themselves in their mother tongue while monitoring the patient's pregnancies. — Selena Chamu Martinez
2022 CABE65 Fellows
Kiara Ortega
Graduated from Hilltop High School
Attend CSU Los Angeles
Goal/Major: Nursing
Stephanie Pedroza
Graduated from Montgomery High School
Attend UC San Diego
Objective/Major: Business Economics / Mechanical Engineering
"As a proud Mexican American, I also consider myself a citizen of the world. It is very important to me to speak and use my bilingual skills not only because I am a Latina, but because it is important to me to not only use these skills for my own benefit, but to possibly help other people who, just like my parents, have language barriers." —Stephanie Pedroza
Andres Lopez
Southwestern High School Graduate
Study at Southwestern College
Goal/Major: Electrical Engineer
Izabella Vazquez
Graduated from Chula Vista High School
Attend UC San Diego
Long-term goal/Major: Mathematics: statistics and probability; minor in music
Sofia Mathews
Graduated from Mar Vista High School
Student at University of Nevada Reno
Goal/Major: Nursing
Alyssa Gonzalez
Graduated from Olympic High School
Attend UC San Diego
Objective/Major: Field of architecture / urban planning
Yashaswi Kulshreshtha
Graduated from Hilltop High School
Participation in CSU San Marcos
Goal/Major: Computer Science and Neuroscience
"Speaking two languages ​​gives the advantage of understanding and experiencing various cultures, ideologies, perspectives and key values ​​in society. Bilingualism gives you an authentic experience of a culture. Having a wide range of exposure to different thoughts, beliefs and norms that can shape your personality and character, which makes us more open-minded." – Yashaswi Kulshreshtha
Valeria Vazquez Santillan
Park of the Castle of Graduates
Student at the University of San Diego
Goal/Major: Biology
Johnella Ann Eltagonde
Bayfront Charter High School graduate
Student at San Diego State University
Goal/Major: Bachelor of Science in Nursing
"We live in a world where everyone is connected, whether through social media or any other platform, therefore being bilingual not only gives us an academic advantage, but it is also a tool that can helping tremendously in a world where connecting and communicating with others is a necessity.—Johnella Ann Eltagonde
Kayla Innis
Chula Vista Learning Community Charter School Graduate
Attend UC Berkeley
Objective/Major: Sociology
Jennifer Lagos
Sweetwater High School graduate
Student at California Baptist University
Objective/Major: Psychology
Azzeneth Lora Verdugo
Graduated from Otay Ranch High School
Student at San Diego State University
Objective/Major: Business Administration
Marissa Ramirez
Graduated from San Ysidro High School
Attend UCLA
Long-term goal/Major: Cognitive sciences
"Overall, being bilingual and knowing more than one language in this century is very beneficial because there is a lot of diversity and many languages ​​are flourishing in our country." —Marissa Ramirez
Mission Fed Credit Union Sponsored Researchers
This is Fr. Palma Castillo
Graduated from Fallbrook High School
Participation in CSU San Marcos
Objective/Major: Accounting and Spanish
"My accounting degree and fluency in Spanish will allow me to give back to my community by coordinating bilingual financial workshops at community centers to discuss financial literacy, investing, budgeting, and financial decision-making." — Itsarely P. Palma Castillo
Andrea Lopez
Southwestern High School Graduate
Student at San Diego State University
Objective/Major: Business Administration
Alicia Chamu
Graduated from Orange Glen High School
Participation in CSU Fullerton
Objective/Major: Business Administration
"Becoming an entrepreneur and speaking two languages ​​is something that appeals to me because it means that I can change things." -Alicia Chamu