Spanish royal family: Juan Carlos trial: Spain denies former foreign heads of state the immunity claimed by the King Emeritus in London | Spain
If the Emeritus King of Spain Juan Carlos I was a former head of state of a foreign country, and was accused by the Spanish courts of harassment, illegal surveillance and defamation – as he was by his former lover, Corinna Larsen, UK – he would not be covered by sovereign immunity.
This is the central issue in Larsen's lawsuit against the former monarch, which is being heard in a London court. The Monegasque businesswoman, who had had a romantic relationship with Juan Carlos, requested an injunction prohibiting the King Emeritus from contacting, following, defaming or approaching her within 150 meters of her.
At the end of December 2020, Larsen detailed the harassment she claims to have suffered in the context of her trial, attributing the events to Juan Carlos I directly or to personalities acting on her behalf. Among them was the former director of the Spanish secret service of the CNI, Félix Sanz Roldán. Larsen argued that the behavior was aimed at persuading her to return a € 65 million gift that Juan Carlos had transferred to him "irrevocably" in 2012, or to resume their relationship.
In the wide-ranging lawsuit, the businesswoman recounted the alleged threats, electronic surveillance and surveillance that she claims she and her team of consultants were subjected to, as well as the series of allegations against her. The consequences of all this, according to legal documents, were anxiety and distress which necessitated medical treatment, led to the deterioration of her relationship with her children and other family members, and the loss of her family. 'many of his wealthy clients.
But the success or not of this case depends on whether Juan Carlos – as his lawyer argues – still enjoys immunity from prosecution as a "sovereign".
In Spain, the standard that governs the status of foreign leaders is an organic law on the immunity and privileges of states and international organizations in the country which was approved in 2015 under the administration of former Prime Minister Mariano Rajoy. According to this law, foreign heads of state are "inviolable when they enter Spanish territory, for the duration of their mandate, whether on official or private visit" and "will not be subjected to any form of detention. . "
Who is Corinna Larsen?
Corinna Larsen's relationship with the then King of Spain became public following the 2012 accident Juan Carlos suffered in Botswana, where they were both on a hunting safari. The incident damaged the monarch's reputation and was part of the reason for his surprise decision to abdicate in 2014.
Larsen, a Monaco-based businesswoman who continues to use the aristocratic title of her German ex-husband, zu Sayn-Wittgenstein, made headlines in 2018 when tapes were published in which she claimed that it had been used as a facade to conceal part of Juan Carlos' wealth. .
Juan Carlos I was the subject of an investigation by the prosecutor of the Spanish Supreme Court in connection with allegations of bribes resulting from the construction of an AVE high-speed rail link from Medina to La Mecca, and for other alleged offenses including corruption, obstruction of justice, influence, trafficking and tax evasion. But in October, prosecutors announced they planned to suspend those investigations.
But once they are no longer at the head of state, as is the case with Juan Carlos I, who abdicated the throne in 2014, "they will continue to benefit from criminal immunity only for acts committed during their mandate, in the exercise of their official functions. functions. "The law explicitly excludes genocide, enforced disappearance, war and crimes against humanity from this immunity. Immunity from civil suits such as that brought by Larsen against the former monarch for harassment is also excluded. The law specifies that a former head of state "will continue to benefit from civil, professional, administrative, commercial and fiscal immunity only for acts accomplished during his mandate in the exercise of official functions", with a series exceptions for different types of business and trade disputes.
To go further, the law of 2015 also stipulates that "once their mandate has ended", former heads of state "will no longer be able to use their immunity in Spanish judicial bodies when it comes to actions. linked to acts that were not committed. in the performance of their official duties during their term of office. In other words, their private actions will in no way be protected by immunity.
The same argument was made on Monday at a preliminary hearing by lawyer representing Larsen, James Lewis QC, who said no one can reasonably say that the acts of harassment and persecution of which Juan Carlos is accused were carried out under the cover of his public office – that is to say with the protection of immunity.
Former foreign heads of state will continue to enjoy criminal immunity only for acts performed during their mandate, in the exercise of official functions.

Spanish Law on the Immunity of Foreign Officials in Spain
In Spanish law, the only judicial privilege enjoyed by Juan Carlos is aforamiento – the Spanish term for the protection offered to politicians, judges and others against prosecution in the lower courts of the country. In other words, any case against the King Emeritus, whether civil or criminal, must be heard by the Supreme Court. This rule, which also applies to Queen Letizia, Princess Leonor and the mother of King Felipe VI, Queen Sofia, was approved in July 2014, immediately after the abdication of Juan Carlos, to strengthen the protection of the royal family against the prosecution at first instance.
But the future of the trial against Juan Carlos depends on whether the court decides whether the former monarch still enjoys immunity from prosecution. To reach a ruling, British judge Matthew Nicklin, who is overseeing the case, called on the "Spanish state" to clarify whether the King Emeritus is still part of the royal family.
A lot of things are happening on this point. Sir Daniel Bethlehem, the lawyer for the international law firm Clifford Chance which represents Juan Carlos, based his defense on the argument that the former monarch cannot be brought to court because he is still protected because he remains " sovereign "and" member of his household "under the Spanish Constitution and, as such, enjoys immunity.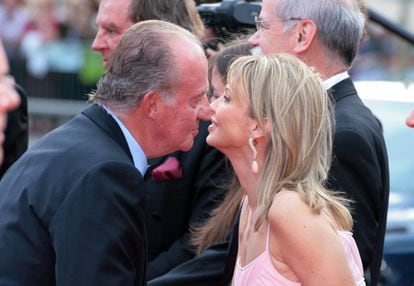 This means that it is now for a UK court to examine the legal arsenal that the Spanish government built around Juan Carlos when he abdicated the throne in June 2014. In other words, the court must decide what is the legal status of King Felipe's father. VI has been having fun for seven years.
When Juan Carlos abdicated, the Rajoy administration approved a law which, in addition to granting the emeritus king privileges of aforamiento, made two very clear decisions: it gave Juan Carlos the lifetime use of " honorary title of king "and made it clear that both he and Queen Sofia would remain members of the royal family.
These are the grounds on which Bethlehem based Juan Carlos' defense in Monday's preliminary hearing. But Larsen's lawyer, James Lewis, was quick to dismiss this argument, saying that "no one considers Juan Carlos I to retain the rank of head of state" and that "it is an honorary title, like those kept by former presidents of the United States. States. "As to whether Juan Carlos is a member of the royal family, Lewis stressed that the former monarch was not economically dependent on Felipe VI, nor lived under the same roof and, as such, could not claim to immunity Juan Carlos has been living in Abu Dhabi since August 2020, after leaving Spain following an investigation into alleged financial irregularities.
Both sides believe the judge will decide whether or not Juan Carlos still enjoys immunity within two months. After all, Christmas is fast approaching, they say.