The Kharon file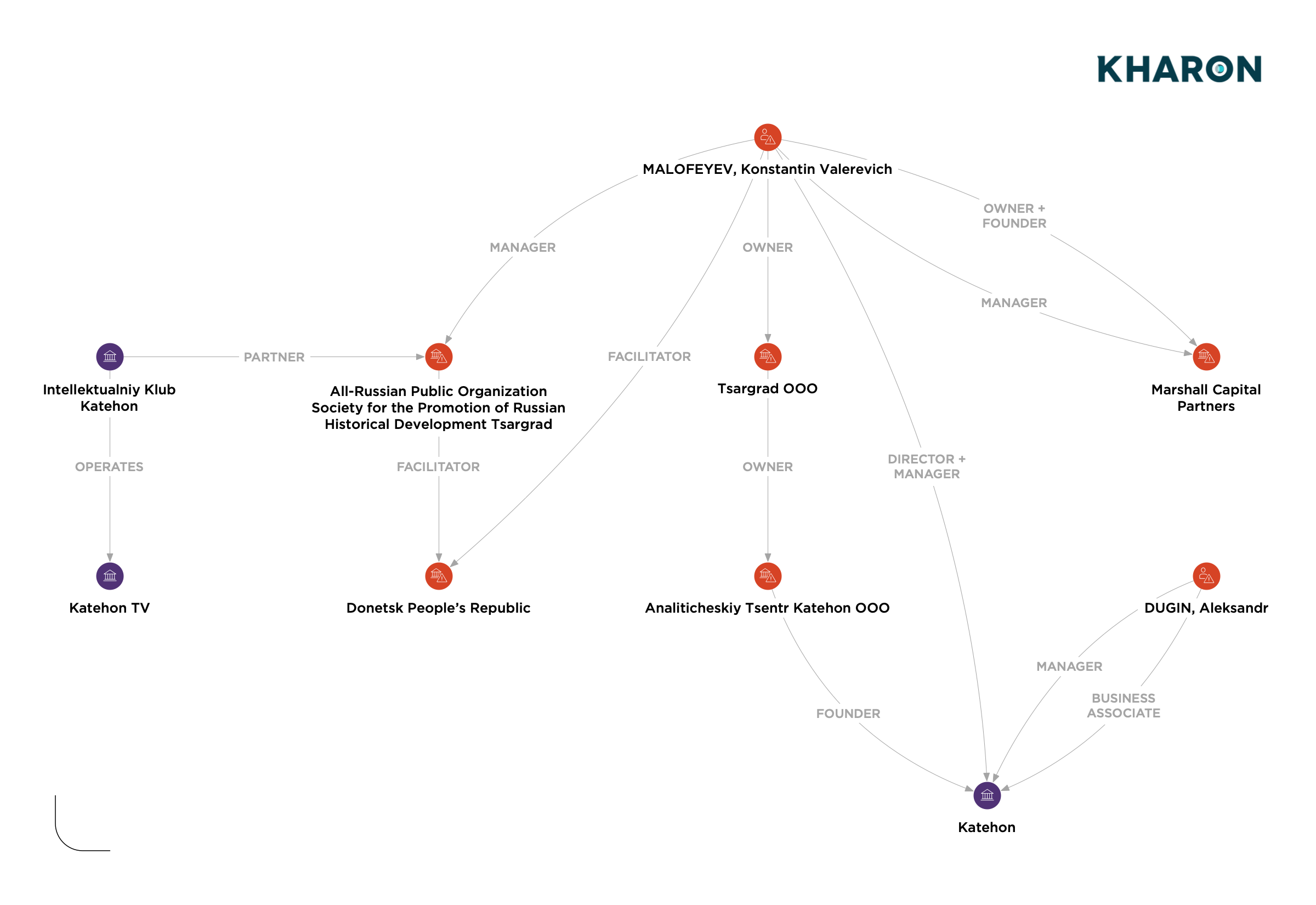 Russian oligarch Konstantin Malofeyev has been sanctioned by the US, EU and Canada since 2014 for providing financial support to Russian-backed separatists in Ukraine. After Russia invaded Ukraine earlier this year, the US and UK imposed sanctions on its media company Tsargrad and think tank Katehon, along with other related entities.
Tsargrad and Katehon have been spreading propaganda and disinformation in support of the Russian government, including false claims that Ukraine is developing a biological weapons program.
Malofeyev's support for Russian aggression in Ukraine
Konstantin Malofeyev (also spelled Malofeev) is a Russian businessman who became involved in Russian politics as a leader of Russian monarchist and Orthodox political organizations, supporting President Vladimir Putin. In 2014, when Russia annexed Crimea and began supporting separatist movements in the Donetsk and Luhansk regions of eastern Ukraine, Malofeyev was a prominent political and financial supporter of Russian proxies in disputed areas. the WE, EUand Canada sanctioned Malofeyev for those actions in 2014, while the United States also named his investment group, the Marshall Capital Fund.
After the 2014 conflict in Ukraine, Malofeyev launched the Tsargrad (Tsar City) TV channel and various related organizations. These organizations include the Katehon Analytical Center (also spelled Katekhon), a Moscow-based think tank, and the All-Russian Society of Public Organizations for Promoting Russian Historical Development in Tsargrad (Tsargrad Society), a political organization.
Tsargrad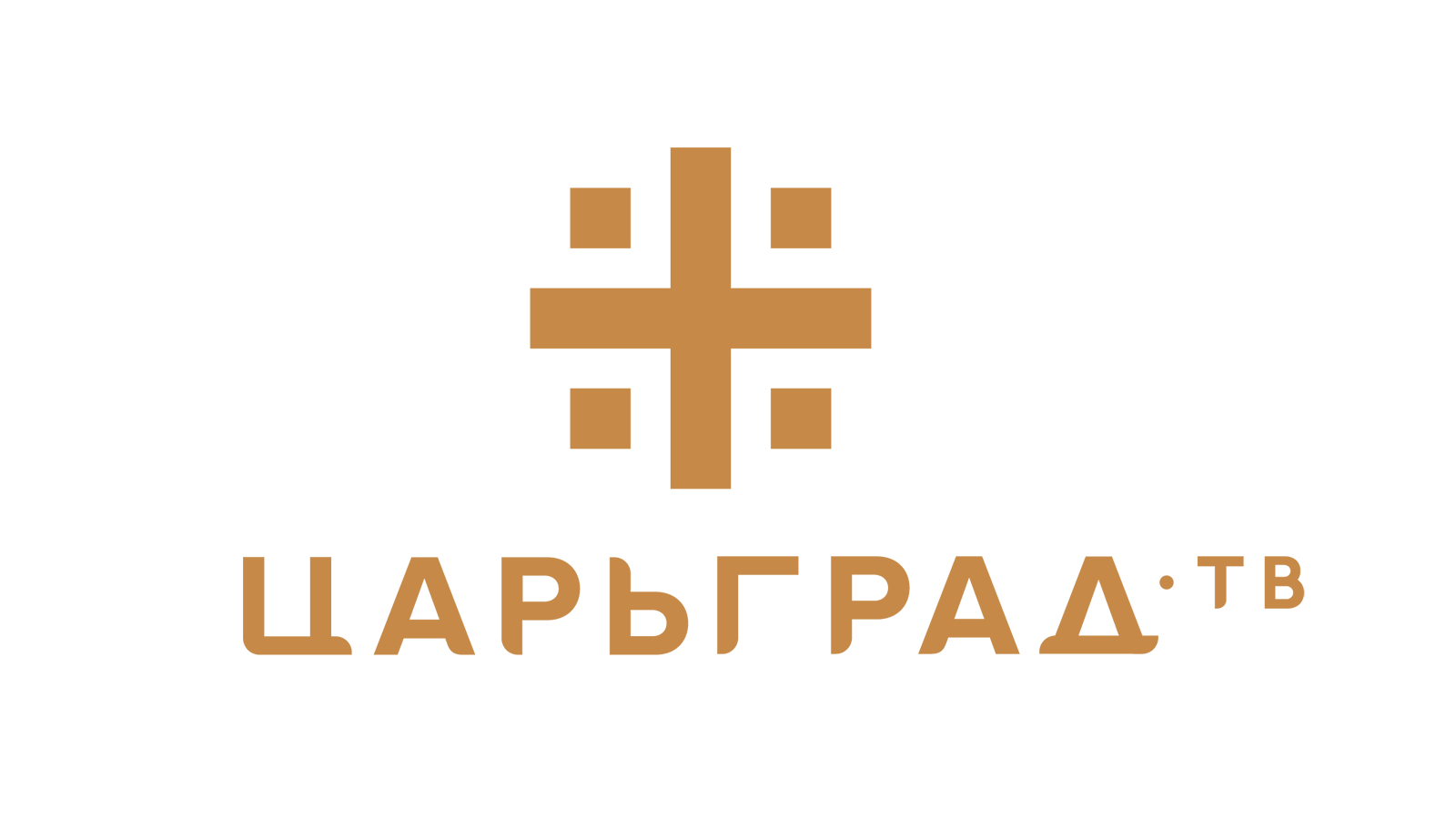 Tsargrad OOO is the hub of Malofeyev's network of media and political organizations. The Moscow-based company, founded in 2015, operates Tsargrad TV (Telekanal Tsargrad) and is the parent company of other Malofeyev-affiliated entities, including Katehon.
Tsargrad TV engaged in the dissemination of anti-Western propaganda and disinformation, acting as a proxy for the Russian state, according to an August 2020 report report by the US State Department. The report describes a network of official, proxy and unattributed communication channels and platforms that Russia uses to create and amplify false narratives, consisting of five main pillars: official government communications, government-funded global messaging State, the culture of sources by proxy, the militarization of social networks. media and cyber-disinformation.
Part of Tsargrad TV's involvement in this network has been as one of the "permanent partners" of Patriot Media Group, a media consortium spear in October 2019, as Kharon reported previously. The organizer of the Patriot Media Group was the Federal News Agency, an entity that the United States sanctioned in December 2018 for his role in Russian interference campaigns against political systems and elections around the world.
Youtube blocked Tsargrad TV from its platform in July 2020. Tsargrad responded by suing Google, YouTube's parent company, in Russia. Tsargrad got a 2021 decision a Russian court ordering YouTube to unblock Tsargrad's account or face daily fines. Malofeev and Tsargrad announcement in March this year that they intend to file lawsuits in the United States and third countries in order to collect from Google more than one billion rubles (over $15 million) in fines imposed by the Russian court.
When Russia invaded Ukraine at the end of February this year, Tsargrad TV broadcast messages consistent with Russian government propaganda and disinformation. On Facebook, Tsargrad TV posted dozens of posts a day, including:
Allegations that Ukraine threatened Russia with nuclear weapons, which Ukraine did not possess (February 25)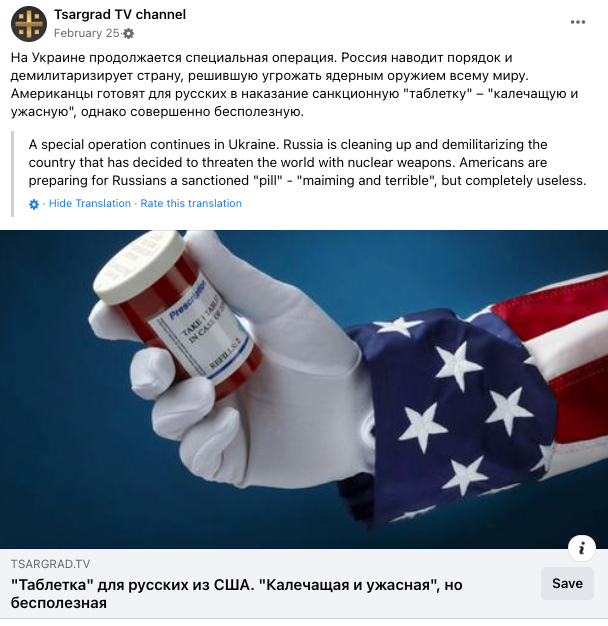 Disinformation alleging the existence of biological weapons laboratories in Ukraine (February 26)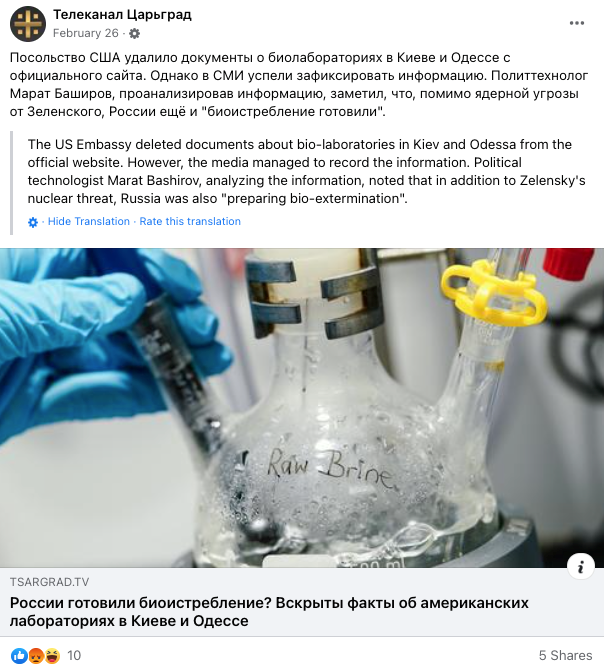 False claims from a NATO base in Ukraine (February 27)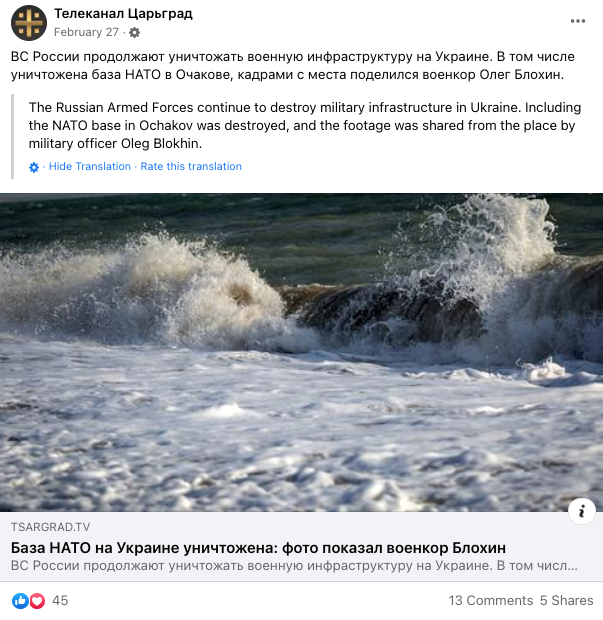 When in March a federal judge unsealed the charge of a former Fox News producer for violating sanctions, Malofeyev and Tsargrad TV played central roles in the criminal charges. The producer allegedly violated US sanctions by working for Malofeyev on "several television projects over several years", including Taargrad TV, in Russia, Bulgaria and Greece. The indictment was the first to allege U.S. sanctions violations stemming from the 2014 conflict in Ukraine, according to the Justice Department. Press release.
Malofeyev himself was revealed on April 6 as the subject of a criminal charges for violating sanctions relating to Tsargrad TV. The Ministry of Justice announcement that Malofeyev has been charged with conspiracy to violate US sanctions and violations of US sanctions in connection with the hiring of the US news producer. Malofeyev allegedly conspired to illegally transfer a $10 million investment made in a US bank to an associate in Greece, in violation of sanctions against him.
Tsargrad Society
Malofeyev heads the Tsargrad Society, a political organization registered in Russia that was previously called the Double Headed Eagle Society, after the symbol of the Russian Federation and the Russian Empire. The Tsargrad society defends Malofeyev's ideas that Russia should return to power through a monarchy and expand into the historical territory of the Russian Empire, including Ukraine. YouTube also blocked the Tsargrad Society account in 2020.
katehon

Analytical Center Katehon OOO (Analiticheskiy Tsentr Katehon OOO) is a subsidiary of Tsargrad OOO, founded in 2016. The 2020 State Department report describes Katehon as "a Moscow-based think tank that proliferates anti-disinformation and propaganda. -virulent western via its website, which is active in five languages. It is run by individuals with clear ties to the Russian state and Russian intelligence services. Within the Russian disinformation and propaganda ecosystem, Katehon plays the role of providing supposedly independent analytical material aimed largely at European audiences.
Katehon's website has not published content in Russian since 2017, although it has actively published materials for foreign audiences in English, Spanish, French, German and Arabic, according to the 2020 report from the Department of State.
One of Katehon's leading figures is Alexander Dugin, who was sanctioned by the United States in 2015 for his role as leader of a Russian organization supporting separatists in Ukraine. Dugin also focused his efforts on appealing to fringe conspiracy theorists in the United States and other Western countries. For example, an article by Dugin that Katehon published on facebook March 22, 2021 mimics the language and concepts of QAnon, calling for "The Great Awakening" and denouncing "The Great Reset" of globalist elites.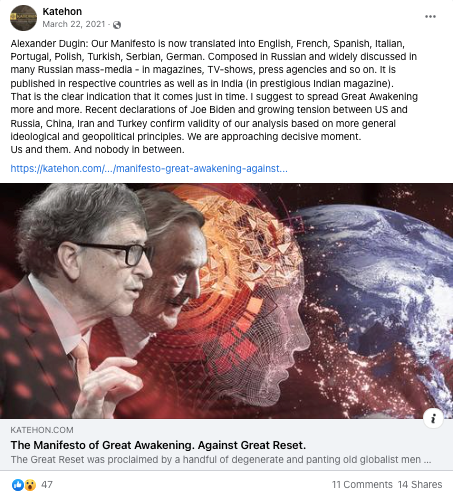 Dugin and Katehon also collaborated with an Iranian organization affiliated with the Islamic Revolutionary Guard Corps – the Quds Force named New Horizon Organization, under the name Kharon reported in 2019.
Katehon's website served as a mouthpiece for Malofeyev's Feb. 24 manifesto on Russia's invasion of Ukraine, saying the actions were an operation to end the genocide of Russians in Ukraine.